WELCOME TO BIRDIES FOR THE BRAVE®
A joint effort between PGA TOUR, Inc., PGA TOUR Charities, Inc. and the PGA TOUR's TPC Network, Birdies for the Brave is a global military outreach initiative dedicated to honoring and expressing gratitude to the courageous men and women of our U.S. Armed Forces and their families.
Conducted year-round across the PGA TOUR, PGA TOUR Champions and Korn Ferry Tour, Birdies for the Brave underscores the critical need to continue delivering compassionate care and vital services to those who have and continue to selflessly serve our country at home and abroad. The program's mission is accomplished in partnership with 10 highly-rated military homefront charities that provide direct support for military personnel, veterans, severely injured heroes, and military families.
To learn more about Birdies for the Brave, click here.
TAKE ACTION, MAKE A DIFFERENCE
MAKING AN IMPACT
Thanks to the outpouring of support from PGA TOUR players, fans, volunteers, employees, military homefront groups, TPC club members and corporate sponsors, Birdies for the Brave has been privileged to make a significant impact on the lives of military members and their families. From military celebrations and engagement programs during tournaments to fundraising events at TPCs and partner clubs, Birdies for the Brave is steadfast in its commitment to give back to those who selflessly put their lives on the line every day in service to our country.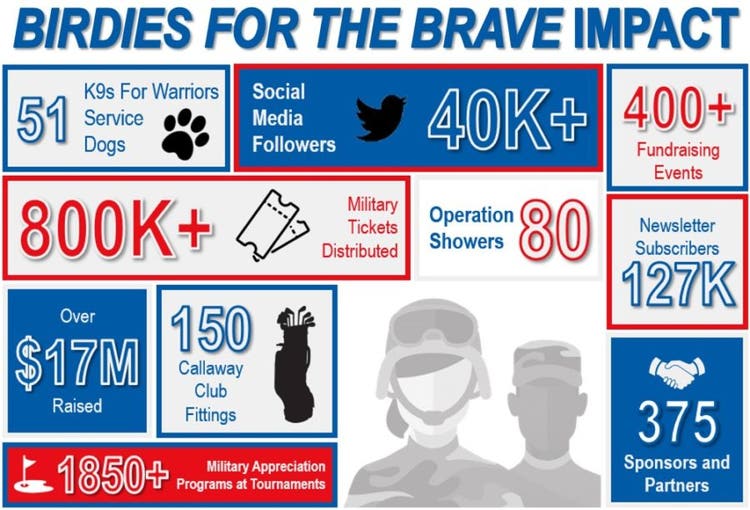 PARTNERS